Stephan Murer
Learn from an experienced practitioner
Dr. Stephan Murer, owner of Murer Consulting GmbH, is an independent technology consultant and board member. Until 2017 he was Group Chief Technology officer at UBS AG, responsible for architecture and innovation of UBS's information systems. Before that, Stephan Murer performed the same role over many years at Credit Suisse. In parallel to his corporate functions, Stephan has remained active in the academic world by teaching at various universities including at the Computer Science department of Oxford University, and by publishing regularly. Furthermore, Stephan Murer is engaged with startup firms and private equity funding.
Stephan Murer
Ex-CTO at UBS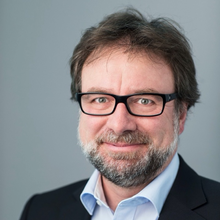 Join the AI in Finance Revolution
Artificial Intelligence is now a reality in finance. But exactly what is AI? What are its applications in finance? How shall professionals prepare for an AI world?  AI in Finance is a structured course that will help finance professionals and technologists acquire the right foundations to be part of the AI revolution.
Course 3: Implementing AI in an Enterprise: Technology, skillsets and regulation is designed to provide you with a cohesive understanding to AI implementation in a large organisation. 
Learn a strategic framework for AI implementation and discover the numerous infrastructure requirements to implement AI technologies. Investigate the role of people in an AI enabled world and develop an awareness for the ethical implementation of AI.
This course is the third of four courses in the Artificial Intelligence in Finance Specialisation. 
The Artificial Intelligence in Finance Specialisation brings together leading industry experts to create four short courses that cover all facets of AI use in finance. With a global view from East to West, you will develop a solid understanding of the growth of AI, and its future trajectory across the globe.
Global Contributing Experts
Learn how AI helps achieve the strategic objectives of an organisation and the different ways in which an enterprise can unlock AI capabilities

Develop a deep understanding of the requirements to unlock AI potential in an organisation, including innovation capabilities, data and technical infrastructure

Deep-dive into the role of people in an AI-enabled world. Uncover what skills are needed to thrive in this new world and what opportunities and challenges both organisations and individuals face in an increasingly automated world

Learn about the necessary ethical considerations of AI and what procedures should be in place to ensure ethical implementation in finance
01

Course 3 of the Artificial Intelligence in Finance Specialisation

Welcome to Implementing AI in An Enterprise: Technology, Skillsets and Regulation

Welcome from the Programme Directors

Welcome from the Senior Lecturer

Course Handbook | Introduction & Overview

Course Handbook | Glossary

Join Our Community at CFTE!

Interact with CFTE & AI Learners

Preliminary Survey - Getting Started

02

Module 1: Integrating AI at a Strategic Level

1. System vs Competitive Innovation

2. A Strategic Framework for AI

3. Accessing Technologies in Enterprise

Course Handbook | Module 1

03

Module 2: Infrastructure for AI

1. Innovation Capabilities

3. Technical Infrastructure

Course Handbook | Module 2

04

Module 3: The Role of People

2. AI Skillsets in the Workforce

3. Talent Opportunities & Challenges

Course Handbook | Module 3

05

Module 4: Ethics and Risks

2. Cooperation Between Humans and Machines

━━ OPTIONAL INTERACTIVE EXERCISE ━━

Course Handbook | Module 4
Over 60,000 professionals use CFTE to grow their knowledge on digital finance. You should too.
Artificial Intelligence in Finance
Get started now